Starter wiring routing issues.
Welcome to FordTruckClub.net
Welcome to FordTruckClub.net, the internet's premier Ford truck community! You are currently viewing our boards as a guest which gives you limited access to view discussions and access other forum features. By joining our free online community you will have access to post topics, communicate privately with other members (PM), respond to polls, upload content and access many other special features. Registration is fast, simple, and absolutely free so please, join our community today!

Forgot your password? click here.

Currently Active Users Viewing This Thread: 1

(0 members and 1 guests)
March 8th, 2015, 02:17 PM



Join Date: Jun 2014

Posts: 2

Likes : 0

Liked 0 Times in 0 Posts
Starter wiring routing issues.
---
| | | |
| --- | --- | --- |
| It's been two years since I've taken the engine out and the one things I can't remember is where these wires bolt on | | |
March 8th, 2015, 09:22 PM



Join Date: Oct 2010

Location: Pennsylvania

Posts: 2,866

Likes : 39

Liked 23 Times in 19 Posts
---
The closest to the bottom, square ish one, goes to the frame right where that metal line is bolted in. The other end of it that's rounded more goes in a bolt on the starter as a ground.
Not sure on the positive ends, they change for your body style (I'm assuming a 92) compared to mine.
---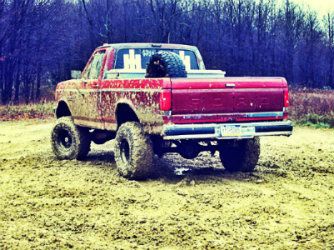 1990 F150XLTLariat. 300I6. ZF. BDS. 36x16.5x15FC. SAS under construction.
How to: FTC Gallery.
How to: Brick steering column.
How to: Wiper motor removal.
Shop Class 101.
Door Tag Codes.
March 8th, 2015, 11:04 PM



Join Date: Jun 2014

Posts: 2

Likes : 0

Liked 0 Times in 0 Posts
---
| | |
| --- | --- |
| I get where the ones to the starter go. But mostly forget which holes the grounds mount to. If I remember correctly the two on on the cross member go together could you try and get a pic of yours? | |