Changing Instrument Cluster
Welcome to FordTruckClub.net
Welcome to FordTruckClub.net, the internet's premier Ford truck community! You are currently viewing our boards as a guest which gives you limited access to view discussions and access other forum features. By joining our free online community you will have access to post topics, communicate privately with other members (PM), respond to polls, upload content and access many other special features. Registration is fast, simple, and absolutely free so please, join our community today!

Forgot your password? click here.

Currently Active Users Viewing This Thread: 1

(0 members and 1 guests)
January 30th, 2015, 06:30 PM



Join Date: Jan 2015

Posts: 2

Likes : 0

Liked 0 Times in 0 Posts
Changing Instrument Cluster
---
I want to buy a instrument cluster with a tach in it for my 91 F250, I have found one at the wreckers, but, it has 357000 K's on the clock.

Is there any way I can rewind the odo to the 135000 K's that is on my truck?

TIA to any who can help, I was thinking of attaching a reversible drill to it, but I want to be sure it can be done before I buy it.

Thanks,
February 6th, 2015, 11:44 AM



Join Date: Jan 2015

Posts: 2

Likes : 0

Liked 0 Times in 0 Posts
---
| | |
| --- | --- |
| 426 people have viewed this post, and no one has an answer...great forum??? | |
February 6th, 2015, 07:34 PM



Join Date: Oct 2010

Location: Pennsylvania

Posts: 2,866

Likes : 39

Liked 23 Times in 19 Posts
---
98% of those views were internet bots or guests. MEMBERS who have viewed this thread, including myself, 4. GLC and aswaff are not well acquainted with this year of truck and the third viewer is you. Chill/

Now, it's a mechanical speedometer. While technically illegal, you can wind up or rewind it at your pleasure with a drill. Or your hand if you're masochistic enough.

Or, if you take the clusters apart you can just put parts from one in the other.
---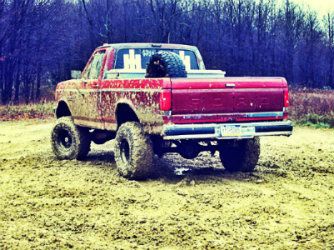 1990 F150XLTLariat. 300I6. ZF. BDS. 36x16.5x15FC. SAS under construction.
How to: FTC Gallery.
How to: Brick steering column.
How to: Wiper motor removal.
Shop Class 101.
Door Tag Codes.