Maximum tire size and lift kits
Welcome to FordTruckClub.net
Welcome to FordTruckClub.net, the internet's premier Ford truck community! You are currently viewing our boards as a guest which gives you limited access to view discussions and access other forum features. By joining our free online community you will have access to post topics, communicate privately with other members (PM), respond to polls, upload content and access many other special features. Registration is fast, simple, and absolutely free so please, join our community today!

Forgot your password? click here.

Currently Active Users Viewing This Thread: 1

(0 members and 1 guests)
February 9th, 2013, 03:04 PM



Join Date: Feb 2013

Posts: 2

Likes : 0

Liked 0 Times in 0 Posts
Maximum tire size and lift kits
---
| | | |
| --- | --- | --- |
| I have a 2012 F-250 FX4. I'm wanting to put 35x12.50x22 on 22x10 inch rims. Could someone tell me what I will need to do for these tires to properly clear. (Lift, leveling, spacers, etc.) any info will be greatly appreciated. | | |
February 9th, 2013, 06:49 PM



Join Date: Oct 2010

Location: Pennsylvania

Posts: 2,866

Likes : 39

Liked 23 Times in 19 Posts
---
Depends on the backspacing and with you are willing to trim. Stock they might fit, but being that you are going with 10" wide I'm going to say you'd need at least a leveling kit just to clear the width. I'd suggest searching around the internet some for pictures of this set up, not necessarily the wheel height, but ten wide and 35's
Pay attention to particular tire sizes too, different brands have different true sizes regardless of saying 35x12.50x22
---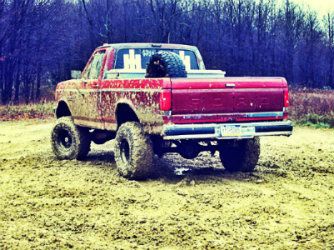 1990 F150XLTLariat. 300I6. ZF. BDS. 36x16.5x15FC. SAS under construction.
How to: FTC Gallery.
How to: Brick steering column.
How to: Wiper motor removal.
Shop Class 101.
Door Tag Codes.
(View-All) Members who have read this thread : 13
azfordguy , Booba5185 , chew , Eng89ine , JSoko , KeithFoult , MarkV , Russo2 , skatebowd , Smooks9603 , ssghamm , TPBull , TXJFrosty