;) I found my own
Welcome to FordTruckClub.net
Welcome to FordTruckClub.net, the internet's premier Ford truck community! You are currently viewing our boards as a guest which gives you limited access to view discussions and access other forum features. By joining our free online community you will have access to post topics, communicate privately with other members (PM), respond to polls, upload content and access many other special features. Registration is fast, simple, and absolutely free so please, join our community today!

Forgot your password? click here.

Currently Active Users Viewing This Thread: 1

(0 members and 1 guests)
August 18th, 2012, 12:52 PM



Join Date: Nov 2009

Location: Benton City, WA

Posts: 1,602

Likes : 3

Liked 5 Times in 5 Posts
---
Whats the best method for engine management with the 91 bronco 302, mated to the 435/205? I want to use the original gauges if possible. But do want to keep the work on the dash to a minimum.

Budget friendly ideas?
---
built and blueprinted Lightning powerplant with p&p heads, race built 4r70w by Darrin @
BC-Automotive
1-Ton swap
Dyno 436/475
Transmission saga.
avoid
www.Engineworldusa.com
, junk import motors.
---
August 18th, 2012, 01:49 PM



Join Date: Dec 2011

Location: Ava, MO

Posts: 2,705

Likes : 13

Liked 31 Times in 28 Posts
---
| | |
| --- | --- |
| Stock computer that was for a 5 speed.It'd actually be pretty easy. The Speedo is cable driven, so it's not even involved in the engine management. Tach is fed of the negative side of the coil like usual, etc. | |
---
89 F-150 5.0l AOD 2x4, 3.55 LS(+4), Converted to HO Roller,
3g Alt
, GT40Ps, Y-pipe,
Rerouted PCV
, Dual Taurus E-fans,
Explorer Injectors
,
Remote ICM
,
DIY Cold air
,
Rubber Vacuum System
, Tranny cooler,
Remote Tranny filter
,
Saginaw P\S swap
,
F350 Brakes
, more.
August 18th, 2012, 03:01 PM



Join Date: Oct 2010

Location: Pennsylvania

Posts: 2,866

Likes : 39

Liked 23 Times in 19 Posts
---
| | |
| --- | --- |
| What booba said. The wiring harness from the any 97-91 302 five speed would work perfect to run the engine and the gauges are very simple so you could rewire if need be. | |
---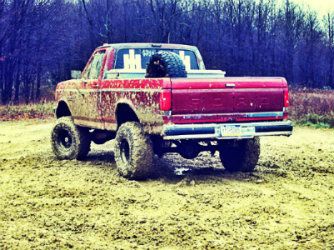 1990 F150XLTLariat. 300I6. ZF. BDS. 36x16.5x15FC. SAS under construction.
How to: FTC Gallery.
How to: Brick steering column.
How to: Wiper motor removal.
Shop Class 101.
Door Tag Codes.
(View-All) Members who have read this thread : 101
975.4 , Account-tax , Alexemami , AlfredHof , Aliciawrick , ArnoldKam , ASwaff400 , BigBlue79 , BigRob , BigTrouble , bikertrash3531 , Billygenna , Booba5185 , Charlessam , Clydetaw , CrazyD , CrisMcCon , DarrellUnsob , DavidFloca , DavidPramp , DIXIE FIX , Donaldjen , DoubleDee , F150GT , fairyfub , Firedog67 , Franciswem , GeorgeEtela , HaroldHaw , harrison28 , Harveypevduc , HawaiianF150 , Heatherageda , her , herbz , jallen3521 , Jamesbinty , Jamesbox , Jendiump , Jerometox , Jesseplosy , JSoko , KelvinPriow , Klitch , Kristybrath , Lostin90s , MariaFaf , MarioDit , marmaduke , MelvinSat , Michaelanify , michaelsnodgrass18 , MonikaHycle , nine5flareside , ONELOWF , pete59edsel , Raleigh , RalphDiz , Ramonvog , Red91 , RenatoVoics , Ridgejott , Ridgerunner , Robertcem , RobertEmavy , RobertIdecy , RobertSnubs , RobertVog , RobertVoT , Rodneyvat , RoxieAcoup , rtdidaho , Russo2 , sbellinghausen , Schumi112 , Scotyroone , screwon23s , skatebowd , sochi.cat/vek , Soxfan68 , Stewy 39 , Svetlanabike , TimothyNut , Tr00b , Tylewulxwxwe , ursulaaa , urthleafshomy , VincentDof , VitaliyUlcek , Wes , Wheelsblank27 , whitesleeper , Williamadure , Williambeift , Williamidons , Williamrhync , WilliamStali , XRumerTest , Yankee , Zacharycrelf , ZarryPam